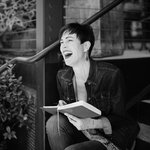 Kari Gale
I am an illustrator and writer that loves telling stories with pictures and capturing the beauty of ordinary moments in my journal using a ballpoint, a Sharpie and a teeny tiny watercolor kit in a mini Altoids tin. I specialize in food and travel illustration, but draw everything from my favorite boots to the incredible vistas I am blessed to see while hiking in the Pacific Northwest.
I recently published my very first book of drawings called The Art of Walking: An Illustrated Journey on the Camino de Santiago in which I documented each day of my 500 mile journey in Spain resulting in over forty watercolor illustrations. You can buy my book on my website karigale.com.
I have left the corporate world after 10 years to take a year and delve into the two things I love the most: drawing and traveling! I am currently spending the summer in Spain promoting my book through two exhibitions in Finisterre and Santiago de Compostela.
I have called Portland, Oregon my home for almost 30 years. I am a Jesus follower and grace receiver and among my favorites are earthy Riojas, bad karaoke, Spanish tapas, backpacking, red lipstick and crosshatching.
Read more