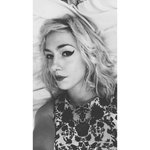 Karina Boissonnier
The subjects I find the most intriguing have always been people, especially when placed in surreal contexts. I have never shown a lot of interest in catching moments, as I would rather "create them". I enjoy coming up with ideas and ways to realize them, which is why I was unconsciously brought to this photographic style. I like seeing beauty, writing stories, studying symbolism, reading mythologies, history and philosophy. I believe every person's signature is born out of a burning passion towards producing art, and from embracing personal taste; which are exactly what I do. I use simultaneously artificial and natural lights, as they both help me build the scenes that live in my head. Photography was invented for depicting reality, and using it to show the surreal and the imagination makes me feel like my "world" exists. Making thoughts come true in a physical form is what makes the art of photography so beautiful. Other than that, I am a quirky half French, half Finnish girl based in San Francisco, CA. Feel free to contact me! www.karina-boissonnier.com Karina Boissonnier joined Society6 on June 6, 2016
More
The subjects I find the most intriguing have always been people, especially when placed in surreal contexts. I have never shown a lot of interest in catching moments, as I would rather "create them". I enjoy coming up with ideas and ways to realize them, which is why I was unconsciously brought to this photographic style. I like seeing beauty, writing stories, studying symbolism, reading mythologies, history and philosophy. I believe every person's signature is born out of a burning passion towards producing art, and from embracing personal taste; which are exactly what I do. I use simultaneously artificial and natural lights, as they both help me build the scenes that live in my head.
Photography was invented for depicting reality, and using it to show the surreal and the imagination makes me feel like my "world" exists. Making thoughts come true in a physical form is what makes the art of photography so beautiful.
Other than that, I am a quirky half French, half Finnish girl based in San Francisco, CA.
Feel free to contact me!
www.karina-boissonnier.com
Karina Boissonnier joined Society6 on June 6, 2016.