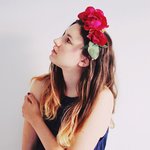 Karin Wåhlberg
I carry around balloons at the bottom of every bag I own and photography is my way of letting the daydream infiltrate reality. I thrive on Alice in Wonderland and Peter Pan's desire to never grow up, own too many books and buy tiny tea cups in thrift stores. In my room is a stash of flowers, toys, and fairytale equipment for when the realm of logic bores too much, and I have a thing for creating what the world would consider impossible. For licensing of images or other questions, email karin@ikiike.com Karin Wåhlberg joined Society6 on August 16, 2013
More
I carry around balloons at the bottom of every bag I own and photography is my way of letting the daydream infiltrate reality. I thrive on Alice in Wonderland and Peter Pan's desire to never grow up, own too many books and buy tiny tea cups in thrift stores. In my room is a stash of flowers, toys, and fairytale equipment for when the realm of logic bores too much, and I have a thing for creating what the world would consider impossible.
For licensing of images or other questions, email karin@ikiike.com
Karin Wåhlberg joined Society6 on August 16, 2013.
Karin Wåhlberg's Store
105 results
Filter