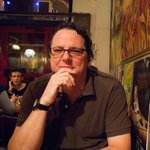 Karl Denton
For most of my life I have been very technically oriented, many years of electronics study in high school, then mechanical engineering at the University of Detroit Mercy. Throughout my my life I have been an avid fan of space exploration, science, quantum physics and such, so much so that I now have most all of Einsteins writings in my library. After being diagnosed with MS in 1995 I felt the need to take my life in a less stressful direction. That direction was art and photography. So my last position as an aerospace engineer came to an end in 2009 and I now use my engineering talents creating some of my more technically complicated art pieces. And having fun doing it! Below is a list of past and present achievements, both technical and artistic. My blog with both technical and creative writings can be found at: blog.karldenton.com And my website with previews of new projects can be found here: www.karldenton.com Karl Denton joined Society6 on May 11, 2015
More
For most of my life I have been very technically oriented, many years of electronics study in high school, then mechanical engineering at the University of Detroit Mercy. Throughout my my life I have been an avid fan of space exploration, science, quantum physics and such, so much so that I now have most all of Einsteins writings in my library.
After being diagnosed with MS in 1995 I felt the need to take my life in a less stressful direction. That direction was art and photography. So my last position as an aerospace engineer came to an end in 2009 and I now use my engineering talents creating some of my more technically complicated art pieces. And having fun doing it! Below is a list of past and present achievements, both technical and artistic.
My blog with both technical and creative writings can be found at: blog.karldenton.com
And my website with previews of new projects can be found here: www.karldenton.com
Karl Denton joined Society6 on May 11, 2015.
Karl Denton's Store
47 results
Filter