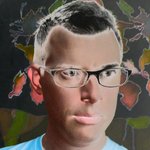 Karl Frey
I am an avid painter and designer based in San Antonio, Texas. I like to make work that suggests playful and humorous viewer participation and stresses that art is best when it is engaging and thought provoking. \*More information about me and my work can be found at my website:\* http://www.karlfrey.com Karl Frey joined Society6 on July 28, 2012
More
I am an avid painter and designer based in San Antonio, Texas. I like to make work that suggests playful and humorous viewer participation and stresses that art is best when it is engaging and thought provoking.
*More information about me and my work can be found at my website:*
http://www.karlfrey.com
Karl Frey joined Society6 on July 28, 2012.