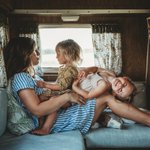 karmenmeyer
Hey there! I am Karmen. Most days you can find me working away in my cozy office, photographing amazing people/brands OR adventuring with my precious family.
As a true lover of random facts, I thought I might leave you 4 little tid-bits about me.
I am the oldest of 10 kids. 7 sisters and 2 brothers!

The first solo trip I ever went on, was to photograph a caravan travelling across 6 African countries from Kenya to South Africa.

I moved back to my hometown of Lacombe, Alberta in 2013 and much to my surprise, I absolutely love it. BUT, I'd give it all up to live by the ocean if an opportunity presented itself!

I love capturing photographs of the endless beauty surrounding me. And I would LOVE to see how you use my art! Tag me on social media @karmenmeyerphotography or use the hashtag #KarmenMeyerArt! Can't wait to see!!
Read more