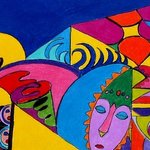 Caron Bowman
Caron Bowman is a multi-disciplined artist and her work spans many techniques including drawing, painting, and fiber media. Her artwork has received international recognition and has been on display at the Marc Chagall Museum, DuSable Museum, Harlem Fine Arts Show, ARCO Madrid Fair, Continuum Art Fair, and Art Africa Fair. In 2014, she was commissioned by the Herradura Tequila to participate in the nationwide Herradura Barrel Art Collection. In 2014 and 2011, she was selected by Russell Simmons and Danny Simmons in association with RUSH philanthropic to be included in the Bombay Sapphire Artisan Series. The Artisan Series profiles the best emerging artist in the country. This year, she was a featured artist in the Wynwood Miami Mix Art Fair. In 2013, Rapper Kendrick Lamar in association with Creative Allies showcased her artwork in NYC at the Galapagos Art Space. The Beck's corporation selected her as a semi-finalist for the 2012 Beck's Green Box augmented reality series - which featured the best emerging artist around the globe. Her work is currently on display on the Beck's global website. Her art was chosen as the official image for the 2012 Miami Beach Stepping Out for the Arts Luncheon. She was selected for the Fiat /Redeye graffiti challenge, which showcased the best in graffiti and street art in Broward County. She has been profiled by The Smithsonian American Latino Museum, The 2014 and 2013, Los Angeles African American Heritage Guide, fashion photographer Nick Knight's – SHOWstudio, and the Tom Joyner Foundation Caron Bowman joined Society6 on June 21, 2010
More
Caron Bowman is a multi-disciplined artist and her work spans many techniques including drawing, painting, and fiber media. Her artwork has received international recognition and has been on display at the Marc Chagall Museum, DuSable Museum, Harlem Fine Arts Show, ARCO Madrid Fair, Continuum Art Fair, and Art Africa Fair. In 2014, she was commissioned by the Herradura Tequila to participate in the nationwide Herradura Barrel Art Collection. In 2014 and 2011, she was selected by Russell Simmons and Danny Simmons in association with RUSH philanthropic to be included in the Bombay Sapphire Artisan Series. The Artisan Series profiles the best emerging artist in the country. This year, she was a featured artist in the Wynwood Miami Mix Art Fair. In 2013, Rapper Kendrick Lamar in association with Creative Allies showcased her artwork in NYC at the Galapagos Art Space.
The Beck's corporation selected her as a semi-finalist for the 2012 Beck's Green Box augmented reality series - which featured the best emerging artist around the globe. Her work is currently on display on the Beck's global website. Her art was chosen as the official image for the 2012 Miami Beach Stepping Out for the Arts Luncheon. She was selected for the Fiat /Redeye graffiti challenge, which showcased the best in graffiti and street art in Broward County. She has been profiled by The Smithsonian American Latino Museum, The 2014 and 2013, Los Angeles African American Heritage Guide, fashion photographer Nick Knight's – SHOWstudio, and the Tom Joyner Foundation
Caron Bowman joined Society6 on June 21, 2010.
Tank Tops by Caron Bowman
4 results
Filter