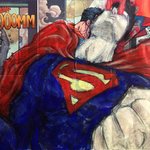 Kasey Randall
I love imagery of chaos and a hero's rise and fall, the human condition, hardship, affliction, life and death, heaven and hell, angels and demons. Over the years I've developed a unique illustrative style. I strip a person down to the raw, human form and depict them in an emotional and gripping state while telling a story. That narrative is what's happening in my life, the emotional roller coaster and chaos. I'm also visually commenting on the human condition and the journey of affliction and hardship that we all take. I integrate sculpture, drawing and painting, print design and digital art to make each piece as unique and different as the last one. I look forward to continuing my creative career as a graphic designer and visual artist. Online Portfolio> www.KaseyRandall.com www.rawartists.org/kaseyrandall Follow me Instagram: TheKaseyRandall Twitter: ToastyCheesitz Kasey Randall joined Society6 on February 4, 2013
More
I love imagery of chaos and a hero's rise and fall, the human condition, hardship, affliction, life and death, heaven and hell, angels and demons. Over the years I've developed a unique illustrative style. I strip a person down to the raw, human form and depict them in an emotional and gripping state while telling a story. That narrative is what's happening in my life, the emotional roller coaster and chaos. I'm also visually commenting on the human condition and the journey of affliction and hardship that we all take. I integrate sculpture, drawing and painting, print design and digital art to make each piece as unique and different as the last one. I look forward to continuing my creative career as a graphic designer and visual artist.
Online Portfolio> www.KaseyRandall.com
www.rawartists.org/kaseyrandall
Follow me
Instagram: TheKaseyRandall
Twitter: ToastyCheesitz
Kasey Randall joined Society6 on February 4, 2013.
Kasey Randall's Store
21 results
Filter