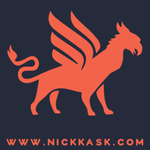 Nick Kask Design Co
With a strong focus on visual branding, Nick Kask partners with organizations to better position themselves in their market, creating fresh and effective identities, web sites and print collateral. Nick Kask is an independent brand manager and graphic designer, specializing in identities, print collateral and web sites. Freelancing for more than ten years, Nick brings his sense of fresh corporate design and passion for brand strength to clients in South Carolina, the Southeast and nationally. Nick Kask Design Co joined Society6 on March 4, 2013
More
With a strong focus on visual branding, Nick Kask partners with organizations to better position themselves in their market, creating fresh and effective identities, web sites and print collateral.
Nick Kask is an independent brand manager and graphic designer, specializing in identities, print collateral and web sites. Freelancing for more than ten years, Nick brings his sense of fresh corporate design and passion for brand strength to clients in South Carolina, the Southeast and nationally.
Nick Kask Design Co joined Society6 on March 4, 2013.