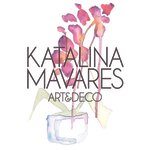 KatalinaMavares Art&Deco
Katalina Mavares was born in Caracas, Venezuela, in 1983. Graduated in Interior Design by the Institute of Design of Caracas in 2009, Katalina was always attracted to the Arts in general. After a few years working in the Interior Design field, she discovered a new way to express her creativity painting with watercolour. Katalina had the opportunity to visit different cities around the world since she was a child, accompanying her mother on business trips. Her mother transmitted her the thrill of knowing new places and enjoy different cultures. At the age of 18, she keep seeking new emotions by herself that led to live in England, Spain, Mexico, Argentina, Costa Rica, Andorra and Catalonia. Currently, she lives in Brazil, looking for innovative ways to find inspiration. She is indeed a Venezuelan artist, though her horizons are International. For Katalina, abstract Art became a way to express her feelings, significant moments that, for some reason, do not leave her memories. The feedback received is reflected in her work. In order to perform her inspirations, she works with different materials such as wood, silk, paper, wax and, of course, watercolour. Parallel to painting, she designs and creates decorative items in wood, fabric and ceramic. She also produces exclusive pieces to decorate events and unique gifts for different special occasions, such as weddings or corporative celebrations. KatalinaMavares Art&Deco joined Society6 on January 23, 2016
More
Katalina Mavares was born in Caracas, Venezuela, in 1983.
Graduated in Interior Design by the Institute of Design of Caracas in 2009, Katalina was always attracted to the Arts in general. After a few years working in the Interior Design field, she discovered a new way to express her creativity painting with watercolour.
Katalina had the opportunity to visit different cities around the world since she was a child, accompanying her mother on business trips. Her mother transmitted her the thrill of knowing new places and enjoy different cultures. At the age of 18, she keep seeking new emotions by herself that led to live in England, Spain, Mexico, Argentina, Costa Rica, Andorra and Catalonia. Currently, she lives in Brazil, looking for innovative ways to find inspiration. She is indeed a Venezuelan artist, though her horizons are International.
For Katalina, abstract Art became a way to express her feelings, significant moments that, for some reason, do not leave her memories. The feedback received is reflected in her work. In order to perform her inspirations, she works with different materials such as wood, silk, paper, wax and, of course, watercolour.
Parallel to painting, she designs and creates decorative items in wood, fabric and ceramic. She also produces exclusive pieces to decorate events and unique gifts for different special occasions, such as weddings or corporative celebrations.
KatalinaMavares Art&Deco joined Society6 on January 23, 2016.
KatalinaMavares Art&Deco's Store
3 results
Filter