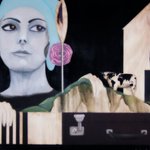 Kate MacKenzie
Kate MacKenzie is a New Zealand artist from Hawkes Bay and has been painting mostly full time since 1999. In 2000 and 2001 she became a finalist with 3 works in the National Telecom Art Awards, and in 2002 was chosen as feature Artist for the "Hawkes Bay Vintners Charity Wine Auction with her painting entitled "The Naked Bidder". Kate's work has also been selected for Hawkes Bay Review and in recent years, the EAST Exhibition. Her paintings have been sold in galleries throughout New Zealand and 6 of her pieces are displayed in the reception area of the James Cook Hotel Grand Chancellor in Wellington. In recent years Kate has entered the World Of Wearable Art and was fortunate enough to become the Supreme WOW Award Winner in 2014 with her entry design "Poly Nation". In 2013 she entered for the first time with a co-designer and came 3rd in the Open section with "Hay Daysie". She is now embarking on a new approach to painting and has completed a series of oils on Plywood and oil on vintage suitcase Elements of surrealism, expressionism and subtle quirky humour are mingled in a unique style, with hide-and-seek references and playful visual puns. Kate MacKenzie joined Society6 on February 11, 2015
More
Kate MacKenzie is a New Zealand artist from Hawkes Bay and has been painting mostly full time since 1999.
In 2000 and 2001 she became a finalist with 3 works in the National Telecom Art Awards, and in 2002 was chosen as feature Artist for the "Hawkes Bay Vintners Charity Wine Auction with her painting entitled "The Naked Bidder". Kate's work has also been selected for Hawkes Bay Review and in recent years, the EAST Exhibition.
Her paintings have been sold in galleries throughout New Zealand and 6 of her pieces are displayed in the reception area of the James Cook Hotel Grand Chancellor in Wellington.
In recent years Kate has entered the World Of Wearable Art and was fortunate enough to become the Supreme WOW Award Winner in 2014 with her entry design "Poly Nation". In 2013 she entered for the first time with a co-designer and came 3rd in the Open section with "Hay Daysie".
She is now embarking on a new approach to painting and has completed a series of oils on Plywood and oil on vintage suitcase
Elements of surrealism, expressionism and subtle quirky humour are mingled in a unique style, with hide-and-seek references and playful visual puns.
Kate MacKenzie joined Society6 on February 11, 2015.
Prints by Kate MacKenzie
15 results
Filter