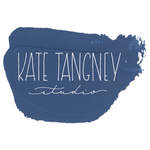 KateTangneyStudio
Hey there! My name is Kate Tangney, and I am a hand lettering artist, calligrapher, and graphic designer living just south of Boston with my husband and two kiddos. I have had a fascination with letterforms for as long as I can remember. The obsession started with my mother's gorgeous penmanship, and continued when I started to learn graphic design in college. Learning about typography gave structure to everything I loved about letters, and taught me all the important lingo like kerning, ascenders, descenders, and all that snazzy jargon. Hand lettering combines all of these things into an art form that I love. I have recently been branching out from purely lettering, and have been combining my original paintings with hand lettering. My style is very raw and quirky, so combining media such as acrylics and ink help me to achieve that aesthetic. Thanks for stopping by, I hope you find something you love. KateTangneyStudio joined Society6 on November 8, 2016
More
Hey there!
My name is Kate Tangney, and I am a hand lettering artist, calligrapher, and graphic designer living just south of Boston with my husband and two kiddos.
I have had a fascination with letterforms for as long as I can remember. The obsession started with my mother's gorgeous penmanship, and continued when I started to learn graphic design in college. Learning about typography gave structure to everything I loved about letters, and taught me all the important lingo like kerning, ascenders, descenders, and all that snazzy jargon. Hand lettering combines all of these things into an art form that I love.
I have recently been branching out from purely lettering, and have been combining my original paintings with hand lettering. My style is very raw and quirky, so combining media such as acrylics and ink help me to achieve that aesthetic.
Thanks for stopping by, I hope you find something you love.
KateTangneyStudio joined Society6 on November 8, 2016.
KateTangneyStudio's Store
1 results
Filter