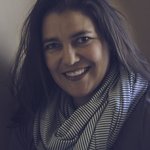 Yolanda Nussdorfer
I am a juggler of many roles. Wife, Mother, Mixed media artist & instructor, housekeeper, taxi driver, chef and many others. I strive to create art as much as possible in this busy-ness we call life. I am extremely thankful for the time my husband and boys allow me to escape into my home studio and satisfy my need to create. Please visit my website at www.inspireandwander.com Yolanda Nussdorfer joined Society6 on June 21, 2014
More
I am a juggler of many roles. Wife, Mother, Mixed media artist & instructor, housekeeper, taxi driver, chef and many others. I strive to create art as much as possible in this busy-ness we call life. I am extremely thankful for the time my husband and boys allow me to escape into my home studio and satisfy my need to create.
Please visit my website at www.inspireandwander.com
Yolanda Nussdorfer joined Society6 on June 21, 2014.