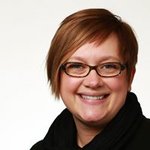 Katherine Paulin
Hi! My name is Katie, and I don't think I'm an artist. In fact, I'm pretty sure of it. But you never know. I could change my mind. You could call me creative, I suppose. That's not nearly as intimidating as artist. After all, what you define as an artist and what I define an artist may be two totally different beasts. I don't have a formal art education. I almost never pull out my paintbrushes. My work is primarily digital, so there's never really an original piece to show. How could I possibly be an artist? On the other hand, I do create, and I work hard to be creative. Think different. Connect ideas in new ways. Find the hidden beauty in everything. Keep my hands and mind busy. And express it all in whatever way feels right at the moment. Lately, that means that I've been playing with my own hand-drawn sketches or photography, and dropping those into Adobe Illustrator and Photoshop. That's where I gain the most enjoyment, digitally enhancing to my heart's delight. No mess. No fuss. Just quiet creativity on the computer.You can even call me the quiet creative, if you want. I go by a different name if you happen to be my husband Roger, daughter Maia or son Iain. Then you probably know me as the crazy lady hunched over the computer who swears at the screen. A lot. Either way, it's nice to see you here, and well done! You deserve a prize for reading all the way to the end of an artist's statement (especially for a not-an-artist like me). Cedarburg, Wisconsin, USA. Follow me on Facebook: http://www.facebook.com/paulincreative See more of my work at http://www.redbubble.com/people/katherinepaulin All photographs, illustrations and drawings © Katherine Paulin. All rights reserved worldwide. My work is protected by copyright law and it is unlawful to download, copy, edit, display or redistribute my images without permission. Katherine Paulin joined Society6 on July 9, 2014
More
Hi! My name is Katie, and I don't think I'm an artist. In fact, I'm pretty sure of it. But you never know. I could change my mind. You could call me creative, I suppose. That's not nearly as intimidating as artist. After all, what you define as an artist and what I define an artist may be two totally different beasts. I don't have a formal art education. I almost never pull out my paintbrushes. My work is primarily digital, so there's never really an original piece to show. How could I possibly be an artist? On the other hand, I do create, and I work hard to be creative. Think different. Connect ideas in new ways. Find the hidden beauty in everything. Keep my hands and mind busy. And express it all in whatever way feels right at the moment. Lately, that means that I've been playing with my own hand-drawn sketches or photography, and dropping those into Adobe Illustrator and Photoshop. That's where I gain the most enjoyment, digitally enhancing to my heart's delight. No mess. No fuss. Just quiet creativity on the computer.You can even call me the quiet creative, if you want. I go by a different name if you happen to be my husband Roger, daughter Maia or son Iain. Then you probably know me as the crazy lady hunched over the computer who swears at the screen. A lot. Either way, it's nice to see you here, and well done! You deserve a prize for reading all the way to the end of an artist's statement (especially for a not-an-artist like me). Cedarburg, Wisconsin, USA.
Follow me on Facebook: http://www.facebook.com/paulincreative See more of my work at http://www.redbubble.com/people/katherinepaulin
All photographs, illustrations and drawings © Katherine Paulin. All rights reserved worldwide. My work is protected by copyright law and it is unlawful to download, copy, edit, display or redistribute my images without permission.
Katherine Paulin joined Society6 on July 9, 2014.