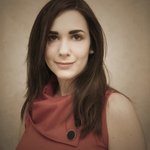 Katy Souders
I'm a graphic designer and digital artist based in Cincinnati Ohio. I'm a closet workaholic with degrees in Commercial Art and Visual Communication, as well as an obsession with books, British TV shows, Marvel comics, and other general nerdery. I'm am often in my own little world of wonder, sometimes leading me to be both woefully and comically unaware of my surroundings. However, my mental world of vibrant color and epic adventures happens to be a driving force behind my abundant creativity. Visit my website at katherinesouders.com Katy Souders joined Society6 on January 19, 2014
More
I'm a graphic designer and digital artist based in Cincinnati Ohio. I'm a closet workaholic with degrees in Commercial Art and Visual Communication, as well as an obsession with books, British TV shows, Marvel comics, and other general nerdery.
I'm am often in my own little world of wonder, sometimes leading me to be both woefully and comically unaware of my surroundings. However, my mental world of vibrant color and epic adventures happens to be a driving force behind my abundant creativity.
Visit my website at katherinesouders.com
Katy Souders joined Society6 on January 19, 2014.