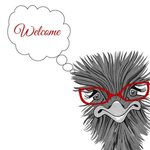 Sartoris ART
My name is Kathleen Sartoris of Sartoris ART and I am a mixed media artist from Nova Scotia, Canada. I work with acrylic paint and digital art and my style is contemporary and whimsical. Working with a variety of subjects in creating playful animals, unique women, stylish food and beverage, modern fashion, vibrant landscape and seascapes, typography and seasonal designs. A big thank you for all the support. Sartoris ART joined Society6 on March 22, 2015
More
My name is Kathleen Sartoris of Sartoris ART and I am a mixed media artist from Nova Scotia, Canada.
I work with acrylic paint and digital art and my style is contemporary and whimsical.
Working with a variety of subjects in creating playful animals, unique women, stylish food and beverage, modern fashion, vibrant landscape and seascapes, typography and seasonal designs.
A big thank you for all the support.
Sartoris ART joined Society6 on March 22, 2015.