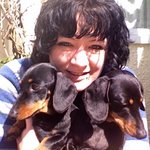 Kathryn Corlett // Illustration and Desi
Freelance illustrator, designer, television expert, font geek, sci-fi obsessive, tech dork, coffee addict, folk listener, aspiring CAMRA member, cyclist, lasagna maker, social network addict and comfort appreciator.
I graduated from Falmouth College of Arts with a degree in Graphic Design. In 2006 I became a founder member of and designer for the arts collective What They Could Do They Did, putting on a variety of free shows in Edinburgh and London, this spawned a small publishing collective named Monster Emporium Press producing selections of zines and books and who are in fact currently in the process of organising the first ever South East London Zine Fest.
A bold move has led me to the position I am in today seemingly poised on the brink of cracking into this here world of illustration. I have designed and illustrated flyers, posters and t-shirts for various festival and clubs nights and am about to be featured in an article in Digital Artists Magazine about The Endangered Creature Alphabet , a project I worked on earlier in 2011.
Read more
Kathryn Corlett // Illustration and Desi's Store
Filter