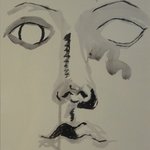 Kathryn McGinley
I'm a working artist with a background in art having earned my degree from the University of North Florida. I've exhibited in numerous shows all over Florida. I work in inks, watercolors, acrylic, and mixed media in an abstract style. I love experimenting with new techniques, and I like to keep my hand loose and really have fun with what I'm creating. Follow me on - Facebook: www.facebook.com/kathrynmcginleyart Website: www.kathrynmcginleyart.com Etsy: www.etsy.com/shop/KathrynMcGinleyArt Instagram: www.instagram.com/kathrynface Pinterest: http://www.pinterest.com/kathrynmcginley/kathrynmcginleyart-kathrynmcginley/ Kathryn McGinley joined Society6 on October 11, 2014
More
I'm a working artist with a background in art having earned my degree from the University of North Florida. I've exhibited in numerous shows all over Florida. I work in inks, watercolors, acrylic, and mixed media in an abstract style. I love experimenting with new techniques, and I like to keep my hand loose and really have fun with what I'm creating.
Follow me on - Facebook: www.facebook.com/kathrynmcginleyart Website: www.kathrynmcginleyart.com Etsy: www.etsy.com/shop/KathrynMcGinleyArt Instagram: www.instagram.com/kathrynface Pinterest: http://www.pinterest.com/kathrynmcginley/kathrynmcginleyart-kathrynmcginley/
Kathryn McGinley joined Society6 on October 11, 2014.
Kathryn McGinley's Store
111 results
Filter