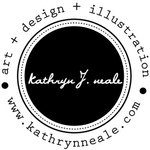 Kathryn Neale
Hello and welcome to my little shop! I'm an artist with a graphic design background so I sell art prints of my original artwork and also photography from my travels around the world. My background is in design and web design but I learned (the hard way) that I am an artist through and through - my language is paint. It comes easy to communicate through painting and it's the basis for all of my projects. I love mixed media though, dabbling in collage-work with found papers. All of my photographs and illustrations come from my love of travel. I've traveled all throughout Europe and the Middle East so I find so much inspiration there. And I love to work in many different styles and experiment. Check out me out at www.kathrynneale.com https://www.facebook.com/pages/Kathryn-Neale-Studio/ https://www.pinterest.com/knealestudio/ Kathryn Neale joined Society6 on December 8, 2012
More
Hello and welcome to my little shop! I'm an artist with a graphic design background so I sell art prints of my original artwork and also photography from my travels around the world.
My background is in design and web design but I learned (the hard way) that I am an artist through and through - my language is paint. It comes easy to communicate through painting and it's the basis for all of my projects. I love mixed media though, dabbling in collage-work with found papers. All of my photographs and illustrations come from my love of travel. I've traveled all throughout Europe and the Middle East so I find so much inspiration there. And I love to work in many different styles and experiment.
Check out me out at www.kathrynneale.com https://www.facebook.com/pages/Kathryn-Neale-Studio/ https://www.pinterest.com/knealestudio/
Kathryn Neale joined Society6 on December 8, 2012.
Kathryn Neale's Store
29 results
Filter