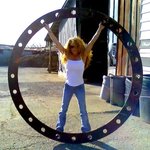 Kathy Augustine
Kathy Augustine, MFA.
Kla Art
I hold a Master of Fine Arts in Interdisciplinary Arts. I explore the interconnections between art and life, body and soul, thought and experience. Perception of art and how it reflects one's reality informs my art practice. This is the basis for my work in art therapy, expressive art, philosophy, and social psychology. Art and Life.....are One.
Original paintings available at www. etsy.com/shop/klaart Instagram: @klaart9 Pinterest: Kla Art
Original Art, Abstract Paintings, Pop Art, Contemporary Modern Art, Fine Art Photography, and Prints are exhibited nationwide by award-winning, published artist Kathy Augustine, MFA.
Read more