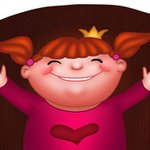 Cloud 9 Ink
"There are people who put their dreams in a little box and say, "Yes, I've got dreams, of course I've got dreams." Then they put the box away and bring it out once in awhile to look in it, and yep, they're still there." Erma Bombeck A mom, a wife, illustrator and a writer. A lover art and books. I love a good laugh, a positive/optimistic attitude and to be around people who share the same outlook. I look for and love & peace, striving to leave the negative behind. I love color, whimsy, cartoon-y everything and believe a warm handshake, a kind word and lots of color can change a mood. I love music and think everyone should get up and dance.....then again, "chair" dancing is good, too.;) Family is important, but true friends should be held just as close. https://www.facebook.com/kathycyrart Cloud 9 Ink joined Society6 on April 7, 2013
More
"There are people who put their dreams in a little box and say, "Yes, I've got dreams, of course I've got dreams." Then they put the box away and bring it out once in awhile to look in it, and yep, they're still there." Erma Bombeck
A mom, a wife, illustrator and a writer.
A lover art and books.
I love a good laugh, a positive/optimistic attitude and to be around people who share the same outlook.
I look for and love & peace, striving to leave the negative behind.
I love color, whimsy, cartoon-y everything and believe a warm handshake, a kind word and lots of color can change a mood.
I love music and think everyone should get up and dance.....then again, "chair" dancing is good, too.;)
Family is important, but true friends should be held just as close.
https://www.facebook.com/kathycyrart
Cloud 9 Ink joined Society6 on April 7, 2013.
Tank Tops by Cloud 9 Ink
6 results
Filter