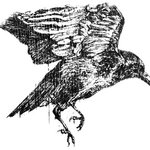 Katie Benge
Born on Anglesey, Wales I have lived quite a nomadic life. First with my RAF family and then with my New Zealand husband and for the past four years in the Forest of Dean UK.
I have a foundation course in art from Middlesex University and a degree in media from Humberside University. I have worked for over fifteen years as an award winning Art Director and Graphic Designer for some of the world's top international advertising agencies – both in New Zealand and in the UK.
My art background spans my families generations with both my grandfather and father being successful artists. I have continued this tradition with my own work, I like to work in a broad range of mediums enjoying painting, illustration, photography and doing graphic pieces.
My latest work is influenced by my Forest of Dean location, drawing the nature that surrounds me, capturing it on recycled wood or slate. All the pieces are hand drawn with Indian Ink and a quill.
See more of my work at https://katiebenge.co.uk
Read more