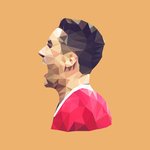 Katie Makar
I'm Katie, a 21 year old graphic design student from New Jersey. I'm interested in typography, hand-lettering, print design, and yelling at Manchester United matches in the early morning. I also run a web-design company called O8 Labs, check us out here: http://www.o8labs.com Katie Makar joined Society6 on February 16, 2016
More
I'm Katie, a 21 year old graphic design student from New Jersey. I'm interested in typography, hand-lettering, print design, and yelling at Manchester United matches in the early morning.
I also run a web-design company called O8 Labs, check us out here: http://www.o8labs.com
Katie Makar joined Society6 on February 16, 2016.