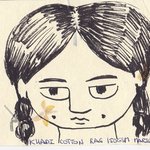 Katie O'Hagan
My artwork is about curiosity and having a childlike playfulness in imagery.
My characters are mostly children and anthropomorphic animals influenced by the naive surrealism of old children's book illustrations and early Disney cartoons.
Having studied illustration, printmaking and puppetry, I like to stuff myself full of things that I like and things that inspire me. A few of my favourite influences include Mary Blair, Maurice Sendak or Benjamin Rabier (among many others).
"Curiouser and curiouser!"
www.katieohagan.co.uk
Read more
Katie O'Hagan's Store
Filter