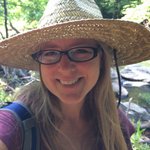 Katie Ree
http://www.katiereeart.weebly.com I see beauty in the world around me. The sky, the trees, the landscape. Art for me is a way to share this love of nature and the spirit of nature. Distilled to simple lines, forms, shapes, and colors. My current work explores this in watermedia and ink. You may commonly find me out exploring and painting in the wonderful forests, rivers, and creeks around Durham, NC. I love to start a painting on location and then finish in my studio. Each painting, sculpture, or other work I create is a both a meditative experience and a way to push myself to notice more. What colors are really in a sky, a field, a river, a mountain, the sea? What lines and spaces make up a tree? How do you express the gentle breeze, the whispering of trees, the sound of a peaceful sky? How do you be still and one with yourself and the world around you? Most of all I hope to create images and objects that people want to live with. That speak to them as creating them has spoken to me. My paintings have been exhibited and collected in public and private collections in the US and abroad. Katie Ree joined Society6 on September 28, 2016
More
http://www.katiereeart.weebly.com
I see beauty in the world around me. The sky, the trees, the landscape. Art for me is a way to share this love of nature and the spirit of nature. Distilled to simple lines, forms, shapes, and colors.
My current work explores this in watermedia and ink. You may commonly find me out exploring and painting in the wonderful forests, rivers, and creeks around Durham, NC. I love to start a painting on location and then finish in my studio.
Each painting, sculpture, or other work I create is a both a meditative experience and a way to push myself to notice more. What colors are really in a sky, a field, a river, a mountain, the sea? What lines and spaces make up a tree? How do you express the gentle breeze, the whispering of trees, the sound of a peaceful sky? How do you be still and one with yourself and the world around you?
Most of all I hope to create images and objects that people want to live with. That speak to them as creating them has spoken to me.
My paintings have been exhibited and collected in public and private collections in the US and abroad.
Katie Ree joined Society6 on September 28, 2016.