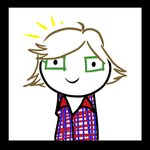 KatMan
Hi there, you lovely person! I am Katman, the greatest superhero to ever live. But even superheros need money, so I draw and paint beautiful things in the hopes of buying that new cape so desperately need. Also, I need to pay the rent on my Kat-Cave. So if you like my work, feel free to contact me for commissions, either via my society6 account, or through my own website: http://katmanrises.blogspot.co.uk/ Hope to see you around! KatMan joined Society6 on July 23, 2013
More
Hi there, you lovely person!
I am Katman, the greatest superhero to ever live. But even superheros need money, so I draw and paint beautiful things in the hopes of buying that new cape so desperately need. Also, I need to pay the rent on my Kat-Cave.
So if you like my work, feel free to contact me for commissions, either via my society6 account, or through my own website: http://katmanrises.blogspot.co.uk/
Hope to see you around!
KatMan joined Society6 on July 23, 2013.