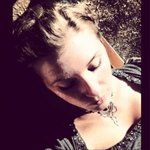 Katryna Jones
I am a Canadian artist, currently living in Edmonton, Alberta. I grew up in rural Alberta which helped me cultivate a strong passion for nature, wild life and their relationship with colour. To this day my childhood experiences with nature, and the freedom of rural life, continue to strongly influence my lifestyle, and way of thinking, as well as my art. My only formal training comes from the classes I took while in high school regarding basic art history and technique; beyond that I am entirely self taught. I've primarily focused on graphite and charcoal, though recently I have begun to dabble in oil painting, absorbing as much about methods and techniques through books and online resources and experimenting as I go. My art work is created in my personal time outside of my full time career. I also dabble in photography and photograph and retouch my own pieces for digital posting and reproduction. My current goal is to not only to refine my art, but to continue to also learn more about how these processes come together to produce a finished product. You can find more about me on my website, http://KatrynaJones.com or follow me on my Tumblr blog at http://mizz-hyde.tumblr.com or Instagram (@Mizz_hyde_ ) -Katryna Jones, Artist Katryna Jones joined Society6 on August 7, 2013
More
I am a Canadian artist, currently living in Edmonton, Alberta. I grew up in rural Alberta which helped me cultivate a strong passion for nature, wild life and their relationship with colour. To this day my childhood experiences with nature, and the freedom of rural life, continue to strongly influence my lifestyle, and way of thinking, as well as my art.
My only formal training comes from the classes I took while in high school regarding basic art history and technique; beyond that I am entirely self taught. I've primarily focused on graphite and charcoal, though recently I have begun to dabble in oil painting, absorbing as much about methods and techniques through books and online resources and experimenting as I go. My art work is created in my personal time outside of my full time career. I also dabble in photography and photograph and retouch my own pieces for digital posting and reproduction. My current goal is to not only to refine my art, but to continue to also learn more about how these processes come together to produce a finished product.
You can find more about me on my website, http://KatrynaJones.com or follow me on my Tumblr blog at http://mizz-hyde.tumblr.com or Instagram (@Mizz_hyde_ )
-Katryna Jones, Artist
Katryna Jones joined Society6 on August 7, 2013.