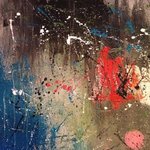 Kat's Artwork
My original contemporary abstract modern paintings are painted on gallery quality canvas. Only fine quality art materials are used. No need to frame. Ready to hang. Final coat of fine art varnish was applied to preserve YOUR INVESTMENT AGAINST UV AND DUST. Signed and dated by the artist. If you would like an original piece done, just email me at Katartwork2014@gmail.com Visit Facebook page: Kat's Artwork and a Website: katsartwork.vpweb.com Thanks for showing your interest in my artwork! Kat Kat's Artwork joined Society6 on June 11, 2013
More
My original contemporary abstract modern paintings are painted on gallery quality canvas. Only fine quality art materials are used. No need to frame. Ready to hang. Final coat of fine art varnish was applied to preserve YOUR INVESTMENT AGAINST UV AND DUST. Signed and dated by the artist.
If you would like an original piece done, just email me at Katartwork2014@gmail.com
Visit Facebook page: Kat's Artwork and a Website: katsartwork.vpweb.com
Thanks for showing your interest in my artwork!
Kat
Kat's Artwork joined Society6 on June 11, 2013.
Kat's Artwork's Store
65 results
Filter