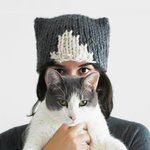 Katty Huertas
I'm a DC-based artist who works in different mediums like painting, ceramics, digital work, drawing, etc. I'm mostly interested in the human figure and the female experience. You can see more of my work here: http://cargocollective.com/KattyHuertas And follow my Instagram here: https://www.instagram.com/kattyhuertas/ Katty Huertas joined Society6 on March 28, 2012
More
I'm a DC-based artist who works in different mediums like painting, ceramics, digital work, drawing, etc. I'm mostly interested in the human figure and the female experience.
You can see more of my work here: http://cargocollective.com/KattyHuertas
And follow my Instagram here: https://www.instagram.com/kattyhuertas/
Katty Huertas joined Society6 on March 28, 2012.
All Over Print Shirts by Katty Huertas
4 results
Filter