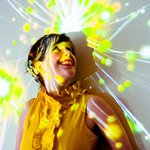 katyatchisonillustration
Follow Katy Atchison on Twitter as @katyatch or visit her website for more inspiration from Katy: katyatchison.com "Sometimes I am on Muni and I get this crazy little illustration idea and start laughing to myself. How silly is it to be on Muni and think... I want to draw a Broccoli Chef with buck teeth?! Loves it." Katy Atchison began showing her art & illustrations in early 1997 throughout the Bay Area, and is an over 11 year veteran artist at The Italian Street Painting Festival of San Rafael. Some of the other venues within San Francisco that she's shown in are below: 111 Minna – A Sketch Tuesday artist Space Gallery Studio Gallery SF Cherish Three Twins Ice Cream in The Lower Haight Shoe Biz on Valencia Underground SF katyatchisonillustration joined Society6 on December 10, 2012
More
Follow Katy Atchison on Twitter as @katyatch or visit her website for more inspiration from Katy: katyatchison.com
"Sometimes I am on Muni and I get this crazy little illustration idea and start laughing to myself. How silly is it to be on Muni and think... I want to draw a Broccoli Chef with buck teeth?! Loves it."
Katy Atchison began showing her art & illustrations in early 1997 throughout the Bay Area, and is an over 11 year veteran artist at The Italian Street Painting Festival of San Rafael. Some of the other venues within San Francisco that she's shown in are below:
111 Minna – A Sketch Tuesday artist Space Gallery Studio Gallery SF Cherish Three Twins Ice Cream in The Lower Haight Shoe Biz on Valencia Underground SF
katyatchisonillustration joined Society6 on December 10, 2012.