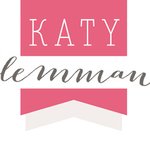 Katy Clemmans
Katy Clemmans is a creative and versatile pattern designer, producing fresh, colourful & stylish decoration for use across all kinds of homewares, paper goods, fabrics and more. Inspired by the beauty found in nature and geometric shapes alike, Katy loves to doodle, play with colour, experiment with typography and mess around on her sewing machine - she then pulls all these elements together digitally to create beautiful, contemporary patterns which are intended to lift your mood and lighten your day! Katy Clemmans joined Society6 on March 10, 2012
More
Katy Clemmans is a creative and versatile pattern designer, producing fresh, colourful & stylish decoration for use across all kinds of homewares, paper goods, fabrics and more.
Inspired by the beauty found in nature and geometric shapes alike, Katy loves to doodle, play with colour, experiment with typography and mess around on her sewing machine - she then pulls all these elements together digitally to create beautiful, contemporary patterns which are intended to lift your mood and lighten your day!
Katy Clemmans joined Society6 on March 10, 2012.