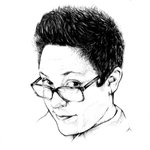 Katy V. Meehan
A little about me: I spent most of my childhood in the "big sky country" of Santa Fe, New Mexico. After moving to Winston-Salem, North Carolina with my family in 1990, I devoted time to learning the art of tattooing and the craft of fine woodworking, before earning my BFA in Theatrical Scenic Design from the UNC – School of the Arts. I have worked as a prototype and model maker, scenic designer, sign painter, tattoo artist, illustrator, and graphic designer. As an independent designer and creative consultant, I share my Greensboro home studio with my partner, DeDe Farrell, and our three Boston terriers: Arnie, Dexter, and Weezy. An affinity for mid-century furniture and packaging design led me to become an avid antique hunter, spending many a weekend seeking out treasures along North Carolina's back roads and scenic byways. Please check out my website to see what else I'm up to: www.katyvmeehan.com Katy V. Meehan joined Society6 on July 2, 2013
More
A little about me: I spent most of my childhood in the "big sky country" of Santa Fe, New Mexico. After moving to Winston-Salem, North Carolina with my family in 1990, I devoted time to learning the art of tattooing and the craft of fine woodworking, before earning my BFA in Theatrical Scenic Design from the UNC – School of the Arts. I have worked as a prototype and model maker, scenic designer, sign painter, tattoo artist, illustrator, and graphic designer. As an independent designer and creative consultant, I share my Greensboro home studio with my partner, DeDe Farrell, and our three Boston terriers: Arnie, Dexter, and Weezy. An affinity for mid-century furniture and packaging design led me to become an avid antique hunter, spending many a weekend seeking out treasures along North Carolina's back roads and scenic byways.
Please check out my website to see what else I'm up to: www.katyvmeehan.com
Katy V. Meehan joined Society6 on July 2, 2013.