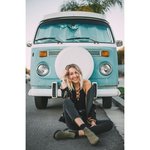 Kaylee Kepple
Born in California, raised in the PNW; I think, live, breathe anything nature related and am a yogi, dancer, along with photographer on my free time when I'm not glued to a desk studying or making art. Being an outdoor enthusiast, animal advocate, and environmental activist, I find myself and my art greatly influenced by my surroundings or daily/world occurrences. I am currently a first year student at San Diego State University, studying Interior Design. With a previous background and experience in various art forms, I am constantly searching for new ways to immerse myself in the arts community, and create whenever possible. Kaylee Kepple joined Society6 on January 13, 2017
More
Born in California, raised in the PNW; I think, live, breathe anything nature related and am a yogi, dancer, along with photographer on my free time when I'm not glued to a desk studying or making art.
Being an outdoor enthusiast, animal advocate, and environmental activist, I find myself and my art greatly influenced by my surroundings or daily/world occurrences.
I am currently a first year student at San Diego State University, studying Interior Design. With a previous background and experience in various art forms, I am constantly searching for new ways to immerse myself in the arts community, and create whenever possible.
Kaylee Kepple joined Society6 on January 13, 2017.
Kaylee Kepple 's Store
3 result
Filter