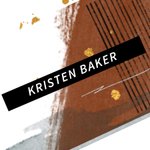 Kristen Baker
Hey there! My name is Kristen Baker & I am the founder at Kristen Baker Art, an illustration and design brand. My work typically incorporates often subdued but occasional bright pops of colour, hand-painted brushwork and clean hand and vector illustrations. You can find my work in retail stores like Crown & Fox Boutique, online on Etsy, as well on my Society6 shop.
I'm a self-taught artist who learned to draw by emulating vintage comic books in the 90's. My work aims to capture expression, movement and fluidity in a combination of highly detailed illustrations and flowing abstract shapes.
My inspiration comes from nature, people, animals and ethereal things. My back yard is a treed country landscape with walking trails, lakes and serene landscape. I enjoy spending as much time as I can outdoors exploring with my two big dogs Phoenix and Harlow. The rest of my time is spent indoors creating and photographing with my helpful side-kitty Hawk by my side.
Interesting facts about myself: I am obsessed with HOT peppers
If I could change one thing about myself, it would be: Be able to snap my fingers!
Future Goals: Travel and design all over the world.
///
portfolio: kristenjoybaker dot com
///
Social: instagram: KristenBakerArt facebook: KristenBakerArt
Contact: kristenjoybaker@outlook.com
Read more