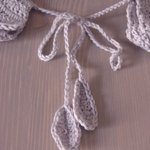 Keep Calm and Knit
I began to make the first steps with wool and needles. It's been two years since I began and now I mainly work with hooks and I really enjoy to crochet, but I never changed my shop name, it remebers me my beginning. I love to photograph my wool works and play with it. I love to draw my imaginary friends on it :) I start every morning with a cup of tea, both in summer and winter, I can't make it without it. I read some pages of the latest book I'm reading and then I begin. I look at the blackboard to see my next works and the programs I made. Depending on what I have to do I pick up some wool, cotton, fabric, needles or hooks. I play some good music, or a movie if I want company, and I'm good to go. Keep Calm and Knit joined Society6 on February 20, 2013
More
I began to make the first steps with wool and needles. It's been two years since I began and now I mainly work with hooks and I really enjoy to crochet, but I never changed my shop name, it remebers me my beginning.
I love to photograph my wool works and play with it. I love to draw my imaginary friends on it :)
I start every morning with a cup of tea, both in summer and winter, I can't make it without it. I read some pages of the latest book I'm reading and then I begin. I look at the blackboard to see my next works and the programs I made. Depending on what I have to do I pick up some wool, cotton, fabric, needles or hooks. I play some good music, or a movie if I want company, and I'm good to go.
Keep Calm and Knit joined Society6 on February 20, 2013.
Keep Calm and Knit's Store
115 results
Filter