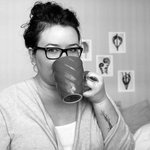 KEETART
I'm Kristina Keeter, the artist behind KEETART. The work I create includes a wide variety of media; from hand-drawn pen and ink pieces to brightly colored abstract paintings to surreal sculptural photography. Nature has always been my muse, inspiring me with organic forms, colors, and textures, and I much prefer an "old-school" handmade/tactile approach to making things over technological or digital processes. I have a background in Sculpture and Photography, and received my BFA from CU Boulder in 2012. In addition to being a freelance artist and photographer, I've also been a curator for an international hospitality art consulting firm, and I love following new design trends and other emerging artists. To read more about me and see some of my other photographic and sculptural works, click here: www.keetart.com/about If you like my work, please feel free to share this page with family and friends! I can also be found on Facebook, Instagram, and Pinterest @keetart. Thanks for visiting! © 2017 Kristina Keeter, All Rights Reserved – I retain all rights to images in this portfolio. Copyright is not transferred to buyer with purchase. KEETART joined Society6 on November 20, 2016
More
I'm Kristina Keeter, the artist behind KEETART. The work I create includes a wide variety of media; from hand-drawn pen and ink pieces to brightly colored abstract paintings to surreal sculptural photography. Nature has always been my muse, inspiring me with organic forms, colors, and textures, and I much prefer an "old-school" handmade/tactile approach to making things over technological or digital processes. I have a background in Sculpture and Photography, and received my BFA from CU Boulder in 2012. In addition to being a freelance artist and photographer, I've also been a curator for an international hospitality art consulting firm, and I love following new design trends and other emerging artists.
To read more about me and see some of my other photographic and sculptural works, click here: www.keetart.com/about
If you like my work, please feel free to share this page with family and friends!
I can also be found on Facebook, Instagram, and Pinterest @keetart.
Thanks for visiting!
© 2017 Kristina Keeter, All Rights Reserved – I retain all rights to images in this portfolio. Copyright is not transferred to buyer with purchase.
KEETART joined Society6 on November 20, 2016.
KEETART's Store
18 results
Filter