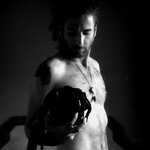 keetovic
As for your question. Who am I?! I came to this amazing world On the 18 of July 1983 as a seed of a lust from war. Born straight to the hard sun of mid Israeli summer in Petah Tikwa (open for hope-translate from hebrew). No hope was in there, so 23 years later I fled to the Israeli big apple Tel aviv!!! This is where I started to shape my life towards the main desire of my journey on this life time, making films. After 2 years of mostly editing I came to a breaking point which made me pack my things and leave israel for a while. After a year around the U.S and getting away from the one thing that i am truly love, have made me realize that I wasn't aiming at the right thing. That is where photography came into my life. In full power and great insights I began to explore every second around through the lens. I got back to Israel straight to school to finish the last 2 years but as a cinematographer and not as an editor. I have joined any photography class my school had to offer and start shooting films as a cinematographer. Graduation came with a great need of go back into traveling and here we are in present time. Armed only with a Nikon D7000 and 3 lenses I'm exploring the world . As my attraction to grunge, dirt and mess led me naturally to my first destination, India. and as you can see the work is still in progress. To keep me on going I have decided to sell my art. If you see anything that you would like or something that some-one you love might like give it another thought. For me is the way to keep on going, for you its a way of doing 2 good deeds keetovic joined Society6 on January 7, 2013
More
As for your question. Who am I?! I came to this amazing world On the 18 of July 1983 as a seed of a lust from war. Born straight to the hard sun of mid Israeli summer in Petah Tikwa (open for hope-translate from hebrew). No hope was in there, so 23 years later I fled to the Israeli big apple Tel aviv!!! This is where I started to shape my life towards the main desire of my journey on this life time, making films. After 2 years of mostly editing I came to a breaking point which made me pack my things and leave israel for a while. After a year around the U.S and getting away from the one thing that i am truly love, have made me realize that I wasn't aiming at the right thing. That is where photography came into my life. In full power and great insights I began to explore every second around through the lens. I got back to Israel straight to school to finish the last 2 years but as a cinematographer and not as an editor. I have joined any photography class my school had to offer and start shooting films as a cinematographer. Graduation came with a great need of go back into traveling and here we are in present time. Armed only with a Nikon D7000 and 3 lenses I'm exploring the world . As my attraction to grunge, dirt and mess led me naturally to my first destination, India. and as you can see the work is still in progress.
To keep me on going I have decided to sell my art. If you see anything that you would like or something that some-one you love might like give it another thought. For me is the way to keep on going, for you its a way of doing 2 good deeds
keetovic joined Society6 on January 7, 2013.
Prints by keetovic
57 results
Filter