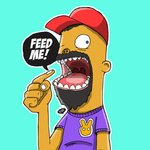 Keith Nakamura
Hi! I am an illustrator and I draw a space bunny who rescued the last remaining dinosaur millions of years ago but was then stranded on Earth and eventually paired up with a genetically enhanced sheep to help him to get home. Yes! They are strange, they are weird and they totally random! Keith Nakamura joined Society6 on November 16, 2012
More
Hi! I am an illustrator and I draw a space bunny who rescued the last remaining dinosaur millions of years ago but was then stranded on Earth and eventually paired up with a genetically enhanced sheep to help him to get home.
Yes! They are strange, they are weird and they totally random!
Keith Nakamura joined Society6 on November 16, 2012.