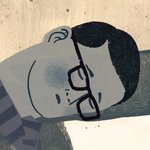 Keith Negley
Keith Negley is an award winning editorial illustrator based in Brooklyn, NY. His clients include The New York Times, Wall St. Journal, Los Angeles Times and his work has been recognized by The Society of Illustrators, American Illustration and Communication Arts, among others. To see more visit www.keithnegley.com Keith Negley joined Society6 on December 27, 2012
More
Keith Negley is an award winning editorial illustrator based in Brooklyn, NY. His clients include The New York Times, Wall St. Journal, Los Angeles Times and his work has been recognized by The Society of Illustrators, American Illustration and Communication Arts, among others.
To see more visit www.keithnegley.com
Keith Negley joined Society6 on December 27, 2012.