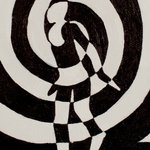 Kelley Dawkins
Usually starting with handmade stencils, these paintings interpret the world in a new way. The colorful compositions, along with the representational figure or animal, connect the viewer to the human experience or the feelings and emotions that we all experience throughout life. Visit www.KelleyDawkins.com for original paintings and my blog! I invite others to escape with me into a world of color and imagination. Kelley Dawkins joined Society6 on April 16, 2012
More
Usually starting with handmade stencils, these paintings interpret the world in a new way. The colorful compositions, along with the representational figure or animal, connect the viewer to the human experience or the feelings and emotions that we all experience throughout life.
Visit www.KelleyDawkins.com for original paintings and my blog! I invite others to escape with me into a world of color and imagination.
Kelley Dawkins joined Society6 on April 16, 2012.
Kelley Dawkins's Store
10 results
Filter