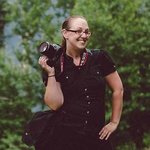 KellyClicksNCrafts
Hey there! I'm Kelly. I've lived a full, challenging, and rewarding life. I'm a mom. I've adopted two sweet children who came to my home via foster care. I'm a fighter. I've survived breast cancer (diagnosed in 2007) and am in remission from thyroid cancer (diagnosed in 2012.) I'm committed. I've been married to my patient and heroic husband for over 14 years. I'm creative. Taking pictures and making cards are my favorite ways to create, but sometimes a good coloring book is all I need. In fact, I often color to relieve stress. I even colored on my wedding day! Find me online at: https://www.facebook.com/KellyClicksNCrafts http://www.pinterest.com/kellyclicksncra/ https://twitter.com/ClicksNCrafts http://instagram.com/kellyclicksncrafts KellyClicksNCrafts joined Society6 on October 10, 2014
More
Hey there! I'm Kelly. I've lived a full, challenging, and rewarding life.
I'm a mom. I've adopted two sweet children who came to my home via foster care.
I'm a fighter. I've survived breast cancer (diagnosed in 2007) and am in remission from thyroid cancer (diagnosed in 2012.)
I'm committed. I've been married to my patient and heroic husband for over 14 years.
I'm creative. Taking pictures and making cards are my favorite ways to create, but sometimes a good coloring book is all I need. In fact, I often color to relieve stress. I even colored on my wedding day!
Find me online at: https://www.facebook.com/KellyClicksNCrafts http://www.pinterest.com/kellyclicksncra/ https://twitter.com/ClicksNCrafts http://instagram.com/kellyclicksncrafts
KellyClicksNCrafts joined Society6 on October 10, 2014.