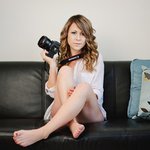 kellylawson
My therapy is photography. I love finding the magnificence in a split second; grabbing moments like bees in jars. I have a passion for photographing people. I find the individuality of objective expression and human essence fascinating; playful, exciting, rejuvenating, rewarding and beautiful. I am a Golden Rulest, wife and mom. I actively enjoy the city I live in, and work with others to make it better. Occasional visits home to my native Nova Scotia keeps me connected to the people who know me best. kellylawson joined Society6 on March 17, 2014
More
My therapy is photography. I love finding the magnificence in a split second; grabbing moments like bees in jars. I have a passion for photographing people. I find the individuality of objective expression and human essence fascinating; playful, exciting, rejuvenating, rewarding and beautiful.
I am a Golden Rulest, wife and mom. I actively enjoy the city I live in, and work with others to make it better. Occasional visits home to my native Nova Scotia keeps me connected to the people who know me best.
kellylawson joined Society6 on March 17, 2014.