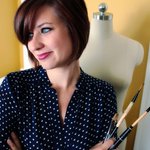 Kelly Muschiana
Hello! Thank you for stopping by. I am an illustrator based in the great state of Michigan. I primarily work in watercolors, marker and charcoal with an occasional graphite sketch here and there. My passion is illustrating fashion and flora. My art is my creative outlet and it is a labor of love. Please have a look around. I hope my work fancies you! Check out my website: www.kellymuschiana@gmail.com 'Elegance is the only beauty that never fades" -Audrey Hepburn Kelly Muschiana joined Society6 on July 30, 2014
More
Hello! Thank you for stopping by. I am an illustrator based in the great state of Michigan. I primarily work in watercolors, marker and charcoal with an occasional graphite sketch here and there. My passion is illustrating fashion and flora. My art is my creative outlet and it is a labor of love. Please have a look around. I hope my work fancies you!
Check out my website: www.kellymuschiana@gmail.com
'Elegance is the only beauty that never fades" -Audrey Hepburn
Kelly Muschiana joined Society6 on July 30, 2014.