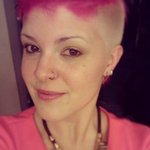 Kelly Burke
My artwork explores the dissolution of material and figurative imagery, depicting the abstract essence and energy of life. I draw inspiration from my art historical studies including non-western art as well as Abstract Expressionism. My recent work focuses on process and physicality of paint. The repetitious layering of, taking away, and re-application of color underneath automatic scrawling, scratching and mark-making express my inner psyche – the way I think about myself and the world around me. Sometimes this is rough and harsh, and sometimes it is gentle and loving. I received my B.F.A. in painting and art history from Siena Heights University in 2007. I have been exhibiting my artwork throughout southeast MI for several years. www.kellyburkeart.wordpress.com www.facebook.com/kellyburkeart Kelly Burke joined Society6 on August 25, 2013
More
My artwork explores the dissolution of material and figurative imagery, depicting the abstract essence and energy of life. I draw inspiration from my art historical studies including non-western art as well as Abstract Expressionism. My recent work focuses on process and physicality of paint. The repetitious layering of, taking away, and re-application of color underneath automatic scrawling, scratching and mark-making express my inner psyche – the way I think about myself and the world around me. Sometimes this is rough and harsh, and sometimes it is gentle and loving.
I received my B.F.A. in painting and art history from Siena Heights University in 2007. I have been exhibiting my artwork throughout southeast MI for several years.
www.kellyburkeart.wordpress.com
www.facebook.com/kellyburkeart
Kelly Burke joined Society6 on August 25, 2013.