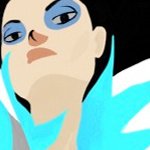 Kelsey Betancourt
Kelsey graduated from Art Center College of Design at the end of last year. Since then, she finished an internship and began freelancing. She loves fantasy, science fiction, and fairly tales. When she's not painting and drawing, she can be found reading, playing video games, or practicing dance. Visit her and see her portfolio here: http://kelseybetancourt.com/ Send inquires about commissions or products to kelseybetancourt @ gmail.com Kelsey Betancourt joined Society6 on November 7, 2013
More
Kelsey graduated from Art Center College of Design at the end of last year. Since then, she finished an internship and began freelancing.
She loves fantasy, science fiction, and fairly tales.
When she's not painting and drawing, she can be found reading, playing video games, or practicing dance.
Visit her and see her portfolio here: http://kelseybetancourt.com/
Send inquires about commissions or products to kelseybetancourt @ gmail.com
Kelsey Betancourt joined Society6 on November 7, 2013.