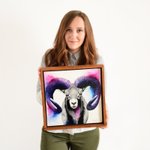 Kelsey Emblow Illustration
Kelsey Emblow is an artist based in West Yorkshire, combining stippling art with abstract painting, she creates dreamy animal art and illustration.
She was influenced by a stippling drawing she found of her fathers he did when he was at college, which introduced her to the style she has today.
Inspired by her love for animals she creates animal paintings with a nostalgic quality, as if from a long lost dream. The animal is drawn in thousands of tiny dots with a soft abstract background and foreground appearing like colourful fog. Taking inspiration from documentaries, her surroundings and photographers.
She also designs patterns with her stippling style to compliment her animal paintings, which can be applied to a variety of home furnishings and ceramics. She fell in love with pattern design during a work placement at university. Her patterns are drawn in black dots, each colour drawn separately, then taken into Illustrator to colour up and make into wonderful patterns.
To see more of my work, please visit: Instagram @kelseyemblowillustration www.kelsey-emblow.com
Read more