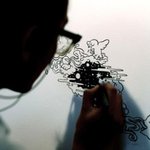 Ken K Chung
About Ken K Chung
Ken K Chung is a Melbourne based graphic artist.
Services include:
Illustration & Graphic design for Print and Apparel.
Sketch Artist/Visualiser for Market Research and Focus Groups.
Storyboarding for TVC and Animation internationally since 2006.
For project proposals and enquiries get in touch via
mobile: (+61) 448 404590
email: kenkchung888@gmail.com
Ken K Chung joined Society6 on April 18, 2012.