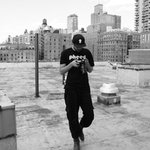 Kenny Sweeney
I am a 29 male photographer born and raised in Los angeles and moved to NYC in Brooklyn Bushwick. you can see alot more of my work on my website www.kennysweeney.com also if you want a print of a image that you see on my site email me and let me know. thank you and i hope you enjoy. Kenny Sweeney joined Society6 on May 8, 2012
More
I am a 29 male photographer born and raised in Los angeles and moved to NYC in Brooklyn Bushwick.
you can see alot more of my work on my website www.kennysweeney.com
also if you want a print of a image that you see on my site email me and let me know. thank you and i hope you enjoy.
Kenny Sweeney joined Society6 on May 8, 2012.
Kenny Sweeney's Store
32 results
Filter