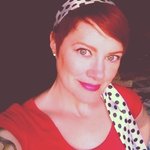 Kericostello
Born in Virginia Beach, Virginia, I have always loved and felt inspired by the ocean. From the time I was young, I could always be found drawing, painting or creating art of some kind. I attended the Art Foundation program at VCU and graduated from Florida Atlantic University with a Bachelors of Fine Arts with a specialization in graphic design. I've worked as a stained glass apprentice in Stuart, Florida, and for five years right after college, I worked in Fort Lauderdale, Florida as an associate art director for a group of affluent lifestyle magazines. Currently, I am back in the Hampton Roads area of Virginia and enjoy drawing, painting, collage work, digital art and interior design. I love working with bright color. My influences and inspiration range from the modern masters Van Gogh, Picasso, Monet, Matisse, Georgia O'Keefe, Paul Gauguin, Marc Chagal, and Frida Kahlo to contemporary pop culture influences, like Warhol, Alberto Vargas, Gil Evgren, Miguel Parades, rock concert poster art, and tattoo art. I find most of my inspiration from the surprising pure colors in found in nature, flowers and foliage, landscapes and Day Of The Dead. I specialize in colorful paintings using bright, complementary colors. I love for the little pops of color to jump out from the underpainting and make the painting come alive. Capturing a person's or pet's essence and the life in their eyes, is what I love to do most. My pet paintings and portraits are mainly done on commission, but sometimes I'll see something that I feel compelled to paint. Kericostello joined Society6 on July 8, 2013
More
Born in Virginia Beach, Virginia, I have always loved and felt inspired by the ocean. From the time I was young, I could always be found drawing, painting or creating art of some kind. I attended the Art Foundation program at VCU and graduated from Florida Atlantic University with a Bachelors of Fine Arts with a specialization in graphic design. I've worked as a stained glass apprentice in Stuart, Florida, and for five years right after college, I worked in Fort Lauderdale, Florida as an associate art director for a group of affluent lifestyle magazines. Currently, I am back in the Hampton Roads area of Virginia and enjoy drawing, painting, collage work, digital art and interior design.
I love working with bright color. My influences and inspiration range from the modern masters Van Gogh, Picasso, Monet, Matisse, Georgia O'Keefe, Paul Gauguin, Marc Chagal, and Frida Kahlo to contemporary pop culture influences, like Warhol, Alberto Vargas, Gil Evgren, Miguel Parades, rock concert poster art, and tattoo art. I find most of my inspiration from the surprising pure colors in found in nature, flowers and foliage, landscapes and Day Of The Dead.
I specialize in colorful paintings using bright, complementary colors. I love for the little pops of color to jump out from the underpainting and make the painting come alive. Capturing a person's or pet's essence and the life in their eyes, is what I love to do most. My pet paintings and portraits are mainly done on commission, but sometimes I'll see something that I feel compelled to paint.
Kericostello joined Society6 on July 8, 2013.