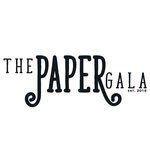 The Paper Gala
Let us help you find the perfect bookish gifts and swag. See something you like, but need it customized? Let us know. We also make custom swag for author signings and book club events. For hand-crafted gifts, visit our easy store. The Paper Gala joined Society6 on January 24, 2015
More
Let us help you find the perfect bookish gifts and swag. See something you like, but need it customized? Let us know. We also make custom swag for author signings and book club events.
For hand-crafted gifts, visit our easy store.
The Paper Gala joined Society6 on January 24, 2015.